Dove Goes All-In with Recycling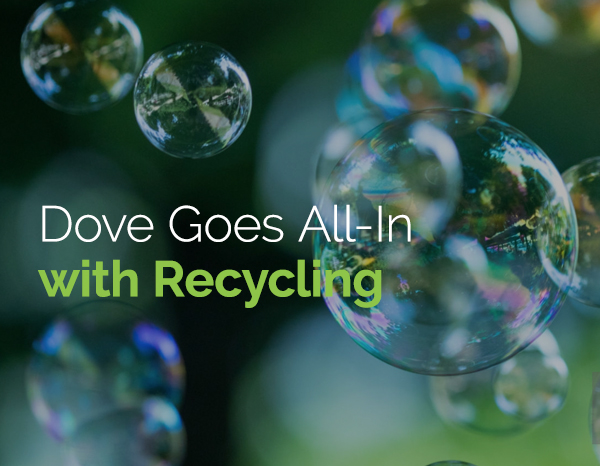 Beauty care brand Dove is proving its commitment to sustainability and social responsibility. The company just announced it plans to cut back on plastic waste and eventually reduce its virgin plastic by 20,000+ tons each year.
Dove is embarking upon an ambitious initiative that will help address our planet's plastic problem, shift commercial and consumer behaviors, and turn the tide against plastic waste. Here are the three elements of the company's pledge:
Their bottles will use 100% recycled plastic in North America and Europe by the end of 2019
The Dove Beauty Bar will feature plastic-free packaging globally by the end of 2020
And reusable, refillable, stainless steel deodorant sticks are currently in development
Beyond these three endeavors, Dove promises an ongoing commitment to explore new production and packaging methods for a cleaner world. The company plans to take the following steps:
Continue directly addressing single-use packaging as a major contributor to plastic waste
Develop environmentally-friendly packaging for its multipack products
Search for 100% recycled plastic solutions in locations where they're currently unfeasible
A company press release sums up their efforts best, "Dove is committed to leading the fight against plastic waste and catalyzing change, within the industry and beyond."
It's refreshing to see more organizations recognizing the business value inherent in environmental responsibility and choosing sustainable practices. If other companies follow Dove's example, not only will we significantly reduce the plastic that plagues our oceans and landfills, but we will promote the adoption of beneficial new behaviors.
Based on Dove Announces Plan to Move to 100% Recycled Plastic Bottles by the End of 2019 by Hanna Flanagan.