Meet Ms. Monopoly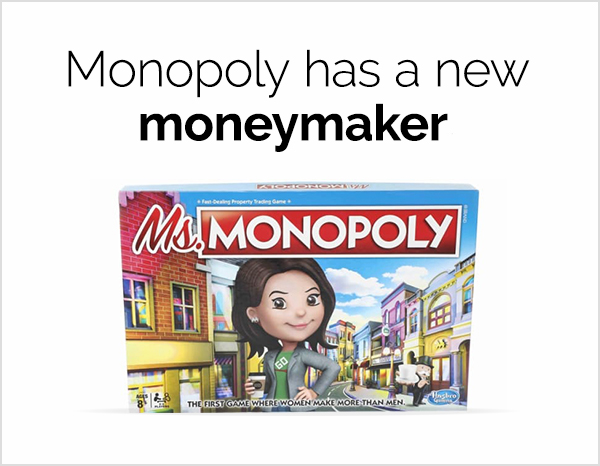 Remember the mustachioed, bespectacled, top-hat-wearing Monopoly Man? He's no longer the game's centerpiece. Hasbro has released a new version of Monopoly, and the tycoon's niece, Ms. Monopoly, is now in charge. This new Monopoly celebrates female entrepreneurs, as players advance around the board investing in products and inventions created by women, rather than properties and railroads.
Its purpose is stated clearly, right on the box—"the first game where women make more than men." The rules have changed, too. Each female player receives $1,900 from the banker before the game begins. Men receive just $1,500. And when players pass go, women receive $240, while men get only $200. Monopoly didn't settle for closing the gender pay gap. It flipped it upside-down.
Ms. Monopoly is the perfect candidate to fill the big shoes of the iconic Monopoly Man
She is both poised and elegant. There's no doubt she bought that crisp gray blazer and diamond earrings with her own hard-earned money. Plus, her subtle hand on hip and coffee cup to-go make it all too clear that she's the boss in this progressive board game.
While marketing the board game, Hasbro spotlighted three young female inventors, surprising them each with $20,580—yes, in real dollars, not Monopoly money—to fund their ventures.
Sophia Wang (16 years old) invented a device that identifies sinkholes before they occur.
Gitanjali Rao (only 13) designed a system that detects lead in drinking water.
And Ava Canney (16) developed an apparatus that measures harmful dyes in both candy and soda.
If you're itching to play
Pick up your version of Ms. Monopoly on Amazon, Walmart.com, and other retailers. And discover why Ms. Monopoly may be the independent, female, pop culture icon we've all been waiting for.
Based on A Ms. Monopoly Board Game Has Arrived, and Female Players Make More Than Males by Victoria Messina.