Social Listening Is Social Marketing's Secret Weapon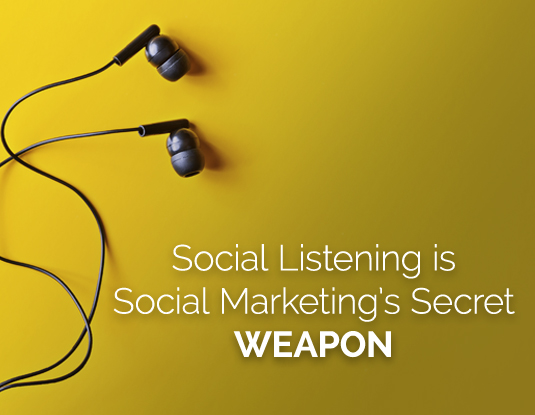 Social media marketing is different in that your audience gets to talk back. Which is why approaching social the same way you approach traditional advertising won't work. Successful social marketing requires a two-way conversation, that includes talking…and listening. Social listening data is gold to the social media advertiser because it allows companies to respond to customer needs in a timely and opportunistic way.
Social listening before a campaign helps companies go beyond basic demographics, identify new audiences, and monitor their competitors' tactics. During a campaign, it allows marketers to get instant feedback, see trends, and optimize ads on the fly. Afterwards, marketers can measure a campaign's impact and gain insight into what influences customer purchases.
Here are a few ways you can integrate social listening into your marketing for more social success.
Listen before you talk.
Customers don't want to hear you talk about your company's product. They want to hear you talk about the things that matter to them, at work, and in their daily lives.
Combine social listening with paid ads.
To master social media advertising, a holistic approach—mixing social listening with paid social ads—has greater impact.
Employ more than one strategy.
There are two primary approaches to social media marketing. One-off campaigns are targeted at audiences you choose and are easily customized. Ongoing boosting campaigns are designed to attract new followers and leads.
Be subtle with your branding.
You're spending money to get exposure, so you'll need branding elements such as brand colors, photo styles, and logos. Just make sure your branding doesn't eclipse the conversation.
Keep your copy simple.
Too many words will diminish the impact of your message. It will also appear like you're attempting to dominate the conversation. Try to limit you text to 20% or less of your total ad space. Specifically Facebook because they will reject an ad with more than 20% text in the creative.
Don't let your ads go stale.
Update your ad creative every week or two. If your target audience has seen your ad multiple times, continuing to use it is a waste of your marketing dollars. Without something new to inform or entertain them, your audience will quickly turn their attention elsewhere.
The new era of social media advertising presents your company with a valuable opportunity to start listening better and serving up more personalized, compelling content. Just remember, social media is a two-way street. So, with every ad you serve, listen to your audience—before, during, and after your campaigns—to stay in tune with their responses and desires.
Based on Why Your Paid Social Is Failing, and Best-Practices for Social Advertising by Jen Kern.