Who Do You Trust?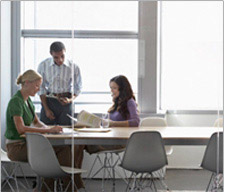 Building business credibility
How you are perceived by your customers in terms of trust and credibility is now more critical than ever. In this age of big data, companies promote product after product in seemingly countless streams of media. How does someone decide that you are a trusted source? It's up to you to help them cut through the barrage of impressions by working to enhance your credibility. Here are four concepts to help you create and foster that trust.
Make a positive first impression
Like the saying goes, "you only get one chance…". Keep that in mind for your web and social media presence. In seconds, anyone can access a wealth of information about you and your company from your web site and social media sites like Facebook and LinkedIn.
Check these items:
Is your representation on all channels professional, honest and cohesive?
Do you provide "social proof" of your credibility with testimonials, case studies and references?
Something as seemingly insignificant as a typo on a LinkedIn profile can damage credibility. Messaging on Google+ that says something different than messaging on your web site puts a question in viewer's minds.
Be credible by being real
Lose the sales pitch when you communicate. Delete the flowery language that says nothing about the legitimate value of your product and service. Stick to your firm's policies and explain why they make sense. You'll appear strong and confident about what you can contribute, thereby building credibility.
Be a thought leader
You take an honest and genuine approach to your business. You have knowledge, experience and insights based on research and analysis. Now share it. Own your social media presence and expand into industry newsletters and publications that will share your insight. Here are some more outlets:
Start a YouTube channel and create informative videos
Create an iTunes channel and share inspiring podcasts
Answer relevant questions on your topic of expertise on LinkedIn Answers
Join relevant LinkedIn groups and continue to build relationships
Offer to speak at networking events
It's all 'About' you
It's no coincidence that the 'About' tab on any given web site or social media page is generally the one clicked most often. People want to align themselves or partner with someone with experience. People want to know:
More about you or your company to justify their decision
Who and what is behind the message
Whether they can trust your integrity both as an individual and as an organization
Create a well written 'About' page giving the reader solid information about who you are and why you should be trusted. Include links on your social media and online profiles that direct visitors back to web pages that continue to add value and showcase your expertise.
It takes commitment to build and sustain credibility, so stick with it. People recognize sincerity, and combined with a strategic marketing plan you'll have the credibility you deserve in no time.