40 Alternative Email Openers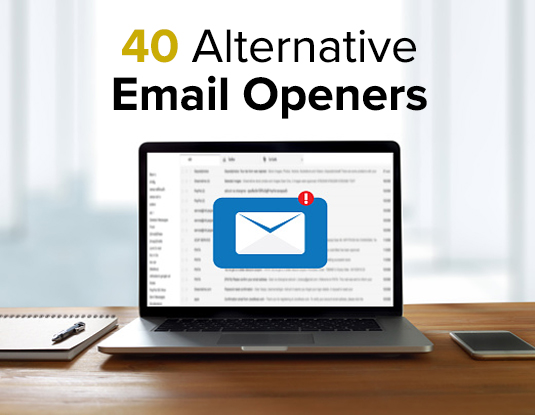 First impressions matter. Especially in your emails. You only have a few seconds to grab someone's attention and your opening line can often make the difference between getting read and getting deleted. How many times have you clicked open an email to read, "I hope you're doing well," "FYI…," or "Read below"?
If you're more personal, or original your contacts will appreciate you for it. For inspiration, here are 40 first lines that work better than "Happy Monday!"
For When You Need to Be Formal
I wanted to introduce myself.
[Mutual contact] recommended I get in touch with you.
Good morning. (or afternoon, evening)
I trust this email finds you well.
I hope you enjoyed your weekend.
I hope you're having a terrific day. (or a great week)
It's wonderful to hear from you.
I'm reaching out about…
Thank you for your help.
Thank you for the update.
Thanks for getting in touch.
For When You're Following Up
I'm checking in on…
I'm getting back to you about…
As promised…
As we discussed on our call…
Can you provide me with an update on…
To follow up on our meeting, …
For When You Want to Be Familiar
Hope you are doing well…
Congratulations on…
How did your [recent project] turn out?
Did you enjoy your [event or vacation]?
I loved your recent [photo/article/social media post].
I was just laughing the other day about [inside joke].
I was just thinking about you and [shared memory].
It was fantastic to see you at [event].
This [article/video/GIF] made me think of you.
For When You Want to Be Playful
Happy "Not Monday."
Hello from the other side.
Good news—there's only [number] more days until Friday.
Hope you're surviving another work week.
I hope you've had your coffee already.
It's me again.
My apologies if this message sabotaged your "inbox zero."
Just what you wanted—another email!
What to Avoid
I haven't heard back from you…
It looks like my last two emails must have missed you.
Checking to see if you received my last email.
Do you have 15 minutes to discuss…
Having reached out to you a few times over the past 2 weeks…
As per my last email…
Keep in mind, not every opening line is appropriate. Ask yourself what you'd say if you were calling on the phone. You should rarely ever write something you'd be embarrassed to say. Hope these help get you started.
Based on 40 Email Opening Lines That Are So Much Better Than "Happy Monday!" by Kat Boogaard.