7 Awesome Ways to Make Your Visual Marketing Pop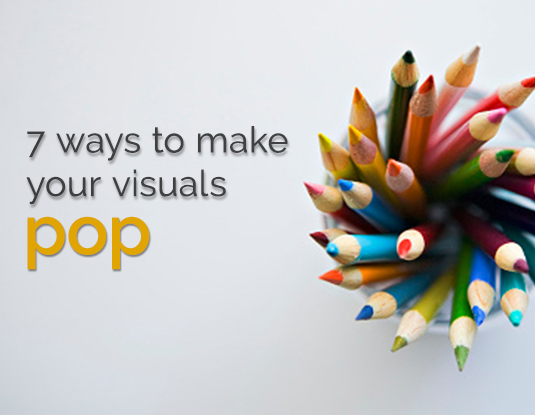 The right images convert. Boring stock photos look staged, and when consumers spot them, they quickly lose interest. Simply put, lousy images leave your audience feeling uninspired. Fortunately, we have 7 handy tips to help you choose images wisely and use them effectively.
Don't compromise on quality
Grainy images kill great ideas. Make sure your images are sharp, and in focus, with good resolution (72 dpi or higher for digital, 300 dpi for print).
First impressions matter
Your photo is the first thing your audience will notice. So, choose an image that's powerful enough to communicate both the mood and meaning of your message.
Picture your audience
The people you hope to reach should see themselves in your marketing. If you're targeting millennials, show millennials. And feature them in situations they can relate to.
Get emotional
People are emotional. You can connect with them by striking the right emotional chord. Just be sure the emotion you portray represents your brand in a positive way.
Play tag
You'll create more traffic if you tag your images for search. You could tag the product, the subject matter, the brand, your message. That's four different search phrases customers might use.
Be deliberate
People know a generic photo when they see one. So, don't choose images randomly. Try to use images that have purpose, personality, and context.
"Hire" your audience
Social media users love sharing photos. So, promote a clever hashtag or photo contest. When you encourage people to get creative with your product or service, they will.
Based on Boost your visual marketing results: 15 trusted tips to choose images that sell, by Caitlin Jordan.