B2B Marketing Apps Can Keep Your Business on the Go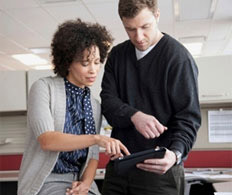 Consumer focused apps seem to get all the attention, from popular games to finding the best coffee shop. For businesses, the right apps as part of a multi-channel marketing strategy can help fuel growth and take your services to a higher level. Here are two basic types to get you started:
Apps used internally to help develop and implement tactics and strategy
Custom built apps designed to serve a target audience
Besides the usual Twitter aggregators or LinkedIn reviews, let's take a look at a few for your own use that can help with presentations, analytics, content marketing or even strategic development.
WordPress allows marketers to keep a WordPress blog updated right from your iPhone or Android. Write new posts, edit content, and manage comments.
Analytics Pro uses Google Analytics™ to drill down into your data to identify trends. You can stay on top of all your web site stats at any time or just stay on top of key content and offer pages.
WebEx facilitates meetings on the go and shares relevant content and documents. There are others, but WebEx is the standard for scheduling, hosting and attending mobile meetings with the ability to share documents and presentations.
Roambi gives a quick ROI snapshot. This colorful app transforms data into interactive charts and graphs and instantly sends them to your mobile device. A free version syncs with Excel and a one-time licensing fee will integrate it into your company's heavy-duty business intelligence systems like SAP Business Objects and IBM Cognos.
Box is a password-protected app that lets you collaborate with others on documents and spreadsheets in the cloud.
Developing custom apps tailored specifically for the requirements of your target audience has now become much more cost-effective to create and deploy. These can be important tools for your marketing mix.
Below are five examples of possible B2B apps you would create specifically for a target audience, suggested by Hugo Ludbrook of Integrated B2B. Could one or more of them work for your company?
Event App: Create a one-off app with exhibit maps, session schedules, speaker bios, and attendee contact information for networking and stream messages with your event-specific hash tag. Cvent will do it for you.
ROI Calculator: Build a company or industry-specific ROI calculator so that your employees, customers and prospects can quickly calculate the return on investment of projects.
Alert App: Some industries need up-to-the-minute information. Apps can be used to create faster alert systems to keep everyone in the know.
Supply Ordering App: Make it easier for your clients to order new stock by scanning bar codes of products they need more of. It's like bringing the consumer experience of Amazon to your customer.
Thought Leadership App: If you're an industry leader in thought leadership, let your readers access content from a special app rather than just a mobile-friendly website.
Now may be the time to put specifically developed apps into your marketing mix.