Find Inspiration Watching Netflix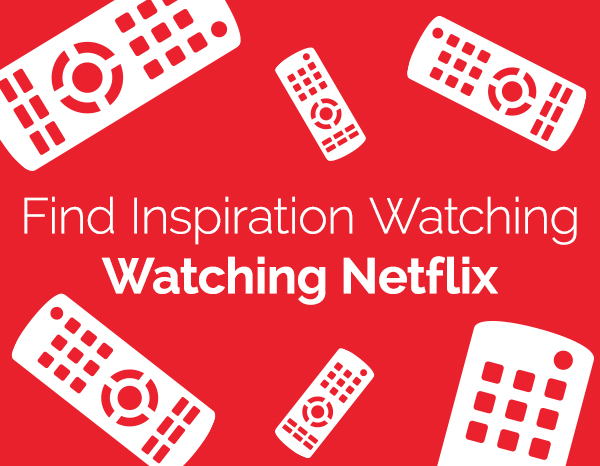 Netflix isn't just binge central for the idle minds and sleepless souls. It's also a treasure trove of inspiration for creative thinkers. You can find neuroscientific exploration, touching documentaries, lost historic footage, and lots of other topics certain to capture your imagination. We'll focus on three of them to illustrate our point.
Abstract: The Art of Design
This Netflix Original docuseries shines a spotlight on the men and women who breathe life into everything from computer screens to athletic shoes. Each episode is a stand-alone documentary film that features one of the series' many design visionaries. Abstract, though, doesn't just tell the story of an artistic individual. It also reveals the origins and intent behind the amazing objects that surround us. In one episode, the show chronicles Paula Scher, an American graphic designer who became the first female principal at Pentagram. In another, it looks at illustrator Christoph Niemann's work on everything from New Yorker covers to Google's "Doodle of the Day."
The Creative Brain
Most of us see creative genius as something few people will ever experience. But Stanford neuroscientist David Eagleman makes it his mission to dispel that myth in his fascinating documentary, The Creative Brain. Eagleman peeks into the rare minds of brilliant creators like architect Bjarke Ingels and musical artist Grimes. He examines their seemingly exceptional thought processes, and then explores how each of us could produce similar creative breakthroughs. The Creative Brain's premise is that being original isn't solely a matter of pulling ideas out of thin air, but also about combining existing ideas to create something new and remarkable.
The Pixar Story
In the mid-1980s, a trio of Bay Area idealists combined their talents in art, science, and business to launch a company that would shake up the entertainment industry. The three individuals were Ed Catmull, John Lasseter, and Steve Jobs, and their company was Pixar. The Pixar Story takes viewers behind the scenes to witness the creative struggle and determination that fueled the next-generation animation technology which revolutionized Hollywood. The film stitches together never-before-seen footage and exclusive interviews with key players such as Tim Allen, Tom Hanks, Steve Jobs, and Michael Eisner to chronicle Pixar's compelling journey from an uncertain animation startup to the industry's most pivotal paradigm shifter.
So, the next time you need a little creative fuel, tune into one of these truly captivating Netflix programs.
Based on The designer's guide to Netflix: 12 must-watch shows and movies by Dominic Vaiana.