Social Media Channels Are Making Big Changes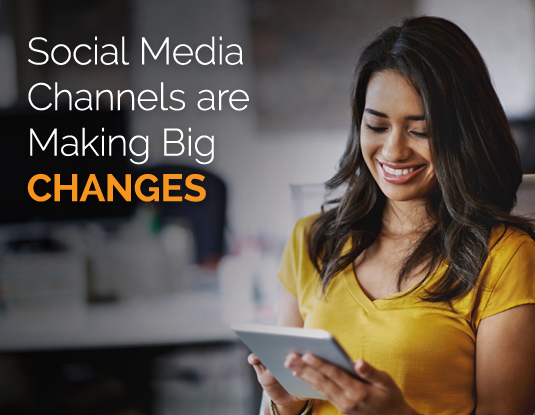 Did you know social media now boasts over 3 billion users? Or that YouTube is adding chat features? Changes are everywhere in the world of social media, so we thought the timing was right to catch you up on all of the latest social media trends for B2B marketers.
The social media universe is 3 billion users strong and growing.
According to new stats from We Are Social and Hootsuite, there are now 3 billion of us on social media. A million people each day joined social media in Q2 of 2017. And more than 90% of them are doing so on mobile devices.
Facebook is getting into original programming.
Take note, YouTube and Netflix. Social media giant Facebook recently launched Watch—a new channel that features more than 30 original shows from content producers like A+E and National Geographic.
LinkedIn has broadened its Marketing Partner program.
LinkedIn added 19 new partners—including Marketo, Hootsuite, and Microsoft Dynamics—to its Marketing Partner program. The partners will help digital marketers target audiences effectively, gain performance insights, and optimize ROI.
YouTube wants to get viewers chatting.
YouTube is making it easier for users to get social. The video network has built up its mobile app to now allow users to send videos to friends and initiate a chat. The result is a mobile messaging platform similar to Instagram and Snapchat.
Facebook is taking its desktop Stories to the desktop.
Facebook plans to move its Snapchat-like Stories from its mobile app to the desktop. It also wants to mimic Instagram's Live Stories. The goal is drive more user engagement by letting video users go live from Facebook's mobile app camera.
Google is following in Snapchat's footsteps.
Speaking of Stories, Google wants in as well. The search giant is busy developing "Stamp", a visual publication format that mimics Snapchat's Discover feature and presents a swipeable slideshow of text, photos, and videos.
YouTube announces new tools for making money.
YouTube is helping creators discover which videos are earning money. It's also providing a way for them to file an appeal for videos that aren't. The platform's new Video Manager features are set to be rolled out in the coming weeks.
Snapchat gives advertisers a powerful new tool.
Snapchat is upping its advertising game with a new ad manager "advanced mode" that lets companies automate campaigns to quickly define target audiences and to customize the way campaign results are viewed.
Pew Research sheds light on social media and older audiences.
Targeting Millennials on social media is relatively easy. Not so much for the older demographic. But new stats from the Pew Research Center are revealing which social media platforms reach more Gen-Xers and Baby Boomers.
LinkedIn models its new matchmaking service after Tinder.
Finally, LinkedIn is looking to add a swipe feature, similar to the one Tinder uses, so that young professionals can swipe right or left to find industry mentors who might help them find jobs and advance their careers.
Based on #SocialSkim: Facebook Launches Original Shows, Social Media Claims 3 Billion Users: 11 Stories This Week, by Christian Neri.