Solutions For Common Landing Page Problems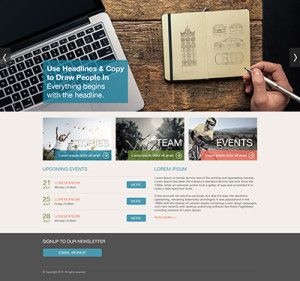 Producing landing pages are simple, right? You cobble together some targeted content, drop it into an easy-to-read layout, and add the form your sales team wants. But what do you do when nothing happens? If your landing page is generating no leads, downloads, or sales, follow these four suggestions that will help you address some of the most common landing page conversion problems.
Use Headlines & Copy To Draw People In
Everything begins with the headline. Make a promise your audience can relate to immediately.
Be sure your copy backs the promise with a compelling case.
Focus on specific and clear benefits that offer real value.
If visitors don't find anything of interest to them, they'll hit the "back" button in an instant. And remember, images are equally important. Use only images that make sense with your headline.
Keep Your Forms Simple
Most of us are sensitive about our security and about being pestered by sales contacts. So our forms should serve, not as a fishing expedition, but as a means to achieving your objective. Often, all it takes is a first name and an email address.
Ask only for necessary details.
See how short you can get the form and still get the leads.
Gather additional information later in the funnel conversion process.
One Offer Doesn't Fit All
Your offer is the single most important element of your landing page after the headline. Be sure it sets clear expectations about what visitors will get when they click the offer button. This will help you prevent immediate disappointment as well as any hesitation to click on your links in the future.
Also, it's vitally important to keep in mind which stage of conversion process you're at whenever you compose an offer. Site visitors might initially respond to a simple offer of a free report. But further along in the funnel, it will like require a more involved offer to gain more traction.
Test For Success
We saved the best for last. Performing comparative tests, and assessing the analytics, will help you more than optimizing your landing pages. So invest the time to test the various elements of your landing page.
You can test subject lines, headlines, fonts, copy length, offers, images, and practically anything else.
A/B testing tools, such as Google Website Optimizer and Lander A/B, are free of charge.
You can determine what combination of elements performs best to maximize results.
A/B testing of images, for example, can produce significantly different results, particularly when your landing pages are deployed in more than one country.
What increases conversion rates for your landing pages? Share your experiences with us in the comments.