Three Great Ways to Help Others During the Holidays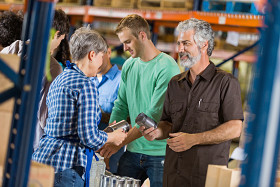 The holiday season is a time of giving, sharing our resources and capabilities with those in need. While there are plenty of donation, volunteering and fundraising opportunities out there, we've come up with a few that you may not be aware of. They can be fun, make an impact on the community, and get you in the holiday spirit.
Drink for a Cause
Giving new meaning to holiday cheer is the group Yuppie Friday. They meet every other month on a Friday afternoon at different venues for Happy Hour. The proceeds go to a local charity that the group has designated ahead of time. The more you enjoy Happy Hour, the more the charity gets. Go to yuppiefriday.com/about.html or visit their Facebook page for upcoming events: facebook.com/yuppiefriday.
Shop for a Cause
Many of us do a good part of our holiday shopping on Amazon. Now, buying something can automatically give to your favorite cause. AmazonSmile allows shoppers to direct 0.5 percent of their purchase to a charitable organization. Log on to www.smile.amazon.com instead of the normal homepage to begin shopping. You can automatically donate to an Amazon-selected organization, or type in the charity of your choice.
Work for a Cause
Volunteering has always been one of the best ways to give back. You can pick from dozens of opportunities in the Bay Area—even if it's just for a couple of hours.
Here are a few favorites:
You don't need to be a corporate philanthropist to make a difference this holiday season. A little can go a long way. Let us know what you do to give back during the holidays and we'll pass it along.