4 Hot Marketing Trends for 2016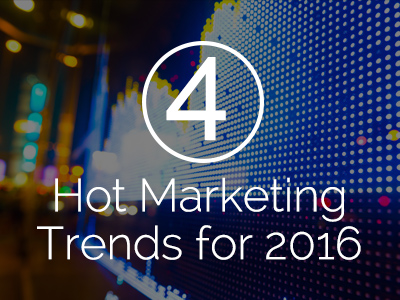 2015 is behind us. And the new business trends that will shape the B2B marketing landscape in 2016 are already emerging. There are several trends industry experts predict will influence our year ahead. Here are four they believe will dominate.
1. Analytics Are In
Forrester's Laura Ramos says the increasing reliance on Big Data is the most powerful force reshaping B2B marketing today. "I think it's never been a better time to be a B2B marketer because of the power that data, and digital technology bring to the profession." Her team's report, Predictions 2016: B2B Marketing's New Mission, indicates 37% of B2B marketers view data analytics is a big priority in 2016. They also think predictive analytics remains one of the hottest areas for B2B tech investment.
2. Websites Are Going Flat
Jeremy Durant is a principal at B2B web design agency and marketing firm Bop Design. He says there two different directions to go in when designing a website—flat or realism. Yet, of the thirty to forty websites his firm launches each year, Durant says the majority of them are choosing to go flat. Flat design zeroes in on how users interact with sites. It's also an efficient way to design sites for smartphones. "A couple years ago it was all about responsive design," Durrant says, "but really now there's a lot of focus on speed and flat design, making sure that the website loads fast."
3. Sincere Customer Relationships
Companies talk a lot about "putting their customers first," but selling typically remains their number-one goal. Forrester's Ramos expects that to change in 2016. "We still think (B2B marketers) are too focused on process, and lead funnel, and all these sorts of things. In order to be successful, they need to switch their perspective from 'how do we generate demand' to 'how do we engage with customers.'" Forrester predicts marketers will finally start thinking less about nurturing leads, and more about understanding the customer purchase journey.
4. The Social Media Comeback
While social media has long been considered the marketing channel of the future, many B2B marketers feel all the tweets and likes and followers have never lived up to the promise, producing sales numbers far below expectations. Still, many experts including Jeremy Durant expect a social media resurgence as marketers reset their expectations. Instead of looking at social media as a lead generation tool, they'll begin to see it more as a branding platform on the front end and a customer service tool on the back end.
Agree with these assessments? Let us know what trends you think will be hot in 2016.
Based on B-to-B Marketing Trends That Will Define 2016 by Zach Brooke.