How To Survive The Post-Vacation Blues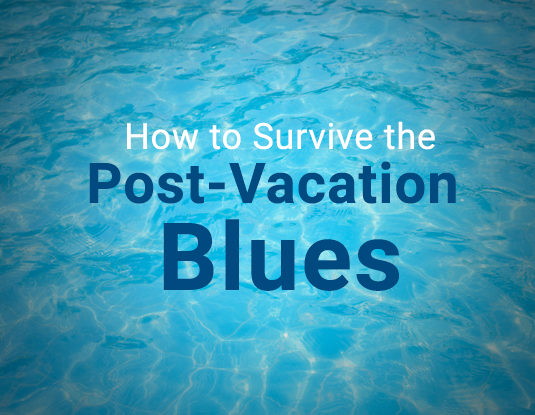 A week or two of no emails, meetings, or deadlines and, bam, there you are, right back in your office chair! Now that vacation is over, your in-box is full, and your to-do list is growing by the minute, we have seven tips to help you survive day one. Welcome back!
Prioritize Your Attack
Whether you like to-do apps or scheduling tasks in your calendar, it's time to prioritize. Create a list of items that absolutely must get done today. Delay less important tasks for later in the week. On a day when you're struggling to focus, this will help keep you on track.
Distract with Delights
Hey, all is fair in love and work. Share some goodies you brought back from your trip. Few things distract coworkers quite like tasty treats. This will allow you tell stories, relive vacation highlights, and ease back into your work groove.
Get into a Groove
Listening to music is a terrific way to motivate yourself. Playing your favorite tunes will create a positive work environment and help you focus on your tasks at hand. You can switch to an energetic playlist, or pump up the volume, to get yourself through that mid-day slump.
Chat Up Your Coworkers
Maybe you just returned from vacation, but your coworkers might be planning theirs. So, dial up a conversation on the topic. Where are you traveling to? Where would you like to go? People love to talk about their plans, and it'll make the day go by quicker.
Take A Break
Want to avoid work stress? Then get out of the office for a long lunch. Invite a few coworkers or sneak off on your own with a good book. Also, sit outdoors if you can. That will make daydreaming about your vacation far easier.
Treat Yourself
Fire up Yelp or your Instagram account to find a hot, new restaurant to dine at. Trying something new will help you appreciate all the fresh, fun experiences you can have closer to home. It may even motivate you to make more of your workdays a little more special.
Plan Ahead
Contact your friends and suggest meeting for happy hour, or some other get-together, when the workday ends. Having something to look forward to will help you get through your day. Even if it's dragging along, you can keep your eyes on that 5-o'clock prize.
The post-vacation blues struggle is real, and we have all been there. We hope these tips give you the tools you need to help ease you back into the workforce, so you can dive back into what you do best.
Based on 7 Ways to Survive Your First Day Back at the Office After an Amazing Vacation by Kaitlyn Russell.