Making Out-Of-The-Office Messages Memorable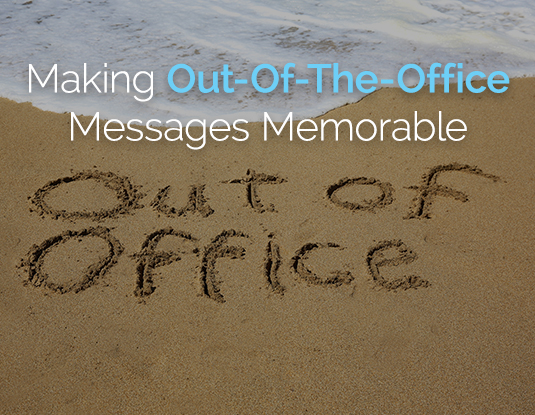 Your out-of-the-office message doesn't have to be boring. Here are several clever examples to inspire you the next time you write your own.
The Social Media Booster.
Hey, there! I'm out of the office this week, but my Twitter signal is always on. Seriously, I've got robotic wonder thumbs! (No, not really.) I never fail to tweet fascinating stories about how people can win big with their marketing efforts. So, until I'm back at my desk, won't you follow me [link]? Whether you follow me or not, I'll get back to you as soon as I can upon returning to my desk on July 17.
The Hand-Off.
I'll be out of the office until Monday, July 24. If your message is urgent, please reach out to the smart and talented Bob Smith at bob@domain.com. If you have breaking news to share, contact Big News Journal's hard working managing editor, Ashley Jones, at ashley@domain.com. Just make sure your news is juicy. Ashley has no time for your shenanigans!
The GIF.
| | |
| --- | --- |
| | I'm out of the office until Monday, July 17 without email and WiFi. I'm sure to return tanned and refreshed, at which time I'll reply to your email cheerfully. I will not, however, be able to get away with wearing my vacation shirt once I'm back to work. RIP, vacation shirt. |
The Networking Opportunity.
Greetings! I'm out of the office July 24-28 attending the Epic Professional Conference. Are you there too? You'll find me walking the floors with a Starbuck's coffee in my hand, comfy kicks on my sore feet, and a bag full of brochures and swag. (I hope someone's giving away those light-up bouncy balls again this year. I burned mine out.) If you're at the conference, I'd love to meet up to chat about your email marketing strategies. Feel free to text me at (123) 456-7890 so we can connect.

The "Read My Stuff."
Hello! Thanks for getting in touch. I'm out of the office until August 5 with limited access to email. But never fear! I've left you with some helpful writing tips to read and share.
Improve Your Writing Time with Quick Recipe Ideas
How to Give Writing Feedback That's Constructive, Not Crushing
How to Improve Writing Skills in 15 Easy Steps
I'm looking forward to connecting with you when I return.
The Lead Generator.
Hi, and thanks for writing! I'm out of the office with no access to email until August 3. If your request is urgent, you can contact helena@handbasket.com for assistance. Otherwise, I'll get back to you as quickly as possible when I return.While you wait, why not subscribe to our fantastic newsletter? You'll get actionable tips once per week geared toward helping you grow your online business. Join us here [link].
Based on 7 Ways to Write an Effective Out of Office Message by Karen Hertzberg.