Meet the 3 Conversion Amigos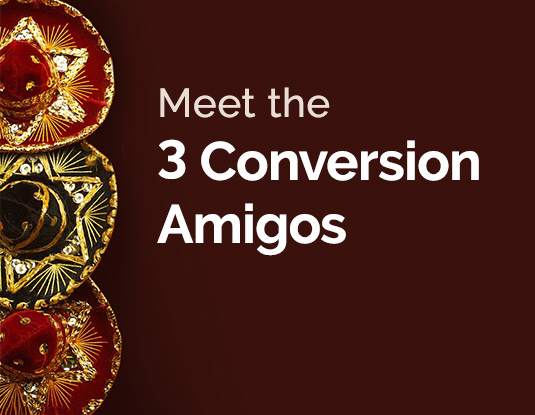 Wherever there are low conversion rates, broken links, or ineffective call-to-actions, you will find the three conversion amigos—dynamic heatmaps, Google Analytics, and visitor recordings. These three give your website the help it needs to combat low conversion rates.
Does your site have conversion issues?
Conversion issues come in all forms—cluttered landing pages, confusing navigation, poorly written copy, vague calls-to-action, slow-loading images, you name it. Ignoring them can have serious consequences. Here are a few red flags you should watch for:
Your conversions and conversion rate are lower than you expect.
You don't really know what visitors do on your website.
Your customers express frustration.
You don't analyze and test on a regular basis.
How the three conversion amigos can help
As the newest kid on the block, dynamic heatmaps bring data to life by visualizing visitor click, move, and scrolling data. They operate as an overlay on your website, allowing you to see data including hover-over and drop-down menu usage. When these actions are visualized, issues can be quickly spotted.
Visitor recordings help you understand engagement. They explain what happened before and after a click, so you can see where users spend the most time, and how they behave while there.
Finally, it's estimated that 56% of all websites use Google Analytics. The incredible amount of raw data collected can make Google Analytics intimidating, but when used correctly this data can be dissected down to micro- and macro-level reporting to provide phenomenal details and insight.
How to use them all together
When you combine dynamic heat maps, visitor recordings, and Google Analytics, they become a powerful conversion rate optimization tool making it easy to dissect useful patterns or visitor behaviors.
Here are several measures you can take to improve your conversion rates:
Make sure Google Analytics is installed on your site.
Identify problem areas in Google Analytics.
View dynamic heatmaps of those problem areas.
Segment dynamic heat map data as needed.
Follow-up with visitor recordings of your problem areas.
Combine your findings to suggest changes.
Google Analytics leads you to the problem pages, dynamic heat maps help you uncover trouble spots, and visitor recordings allow you to watch as visitors click, move, and scroll. There's no guesswork. It's clear what's working, what's not, and it opens the door for short- or long-term conversion improvements.
Based on The 3 Conversion Amigos: Heat Maps, Analytics, & Recordings by Angela Bowman.